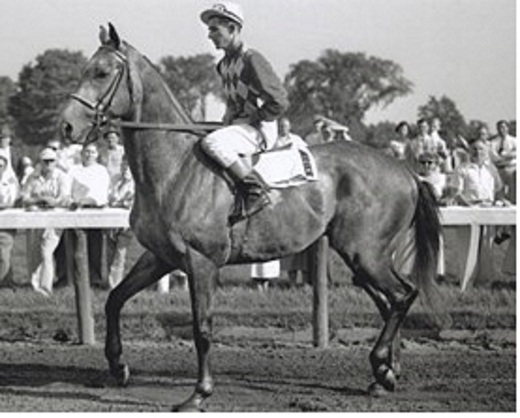 Eric Guerin up on two time Horse of the Year Native Dancer.
Photo courtesy of NYRA/Coglianese
Last Thursday night,
Native Dancer
became the first horse inducted into the Maryland State Athletic Hall of Fame. Raised and trained at his owner-breeder
Alfred G. Vanderbilt, Jr.'s Sagamore Farm
in Glyndon, Maryland, Native Dancer raced for three years, mesmerizing millions of fans both at the track and on newsreels and nascent television broadcasts.
The Galloping Ghost
Dubbed the Gray Ghost, the physically stunning colt won 21 of 22 races. His only loss was in the Kentucky Derby; he came in second. Going in as favorite, given his undefeated record over a course of nine rigorous races, the Triple Crown was Native Dancer's to lose. What came between him and the turf's Holy Grail, was a calamitous trip — from a fraught start to running out of track in his brilliant rally to not quite take down the winner, Dark Star.
The New York Times' turf writer Red Smith wrote:
At the end Native Dancer was going fastest, but the end came a stride too soon. It was Dark Star's head that caught the camera.
Disappointing as the loss was, Native Dancer's speed and physical beauty ensnared the nation's psyche to the extent he was on the cover of Time magazine, and, television and theater newsreels broadcast his life both on the racetrack and at Sagamore where he retired to stud.
Native Dancer's sons exert far-reaching influence.
It is as a stallion that Native Dancer's influence on the modern thoroughbred race horse reaches into the furthest corners of pedigrees in champions and claiming horses alike. The Dancer's immediate offspring acquitted themselves well, among them Kentucky Derby winners Kauai King and Dancer's Image*, and stakes horses Raise a Native and Native Charger.
Freakishly fast but physically fragile, Raise a Native sired the likes of Majestic Prince (Kentucky Derby and Preakness Stakes winner), and Alydar (second in the Kentucky Derby, Preakness Stakes and Belmont Stakes, graded stakes winner). Although they could be ranked at best as respectable race horses, it was Raise a Native's sons Exclusive Native and Mr. Prospector who truly shone as sires.
Exclusive Native sired 1978 Triple Crown winner Affirmed and the Kentucky Derby winning filly Genuine Risk. Mr. Prospector was a sire of sires, including Fappiano, Gulch, Forty Niner and Seeking the Gold. According to international pedigree authority Sid Fernando:
Mr. Prospector, a sprinter at the track, stood at Claiborne after beginning his career in Florida, and what he brought to the table as a sire — aside from phenomenal, game altering class – was speed that stayed and combined well with the stamina of other lines.
Native Dancer's daughters beget dynasties.
Native Dancer's daughter Natalma was the dam of Northern Dancer, whose influence on racing is global. Independent of her Northern Dancer connection, Natalma's daughters' families are responsible for the likes of the great sire Machiavellian, Prix de l'Arc de Triomphe victor Bago and the overpowering filly La Prevoyante.
Another of the Dancer's daughters, Shenanigans, produced sires Icecapade and Buckfinder, the broodmare Laughter and the brilliant, ill-fated Ruffian. 2013 Kentucky Derby winner Orb is a direct descendant of Shenanigans.
Sixty years after the Gray Ghost of Sagamore Farm electrified the nation with his grit and ability, his bloodlines run strong. It's only fitting that Maryland, a center for thoroughbred sport, has honored one of its own.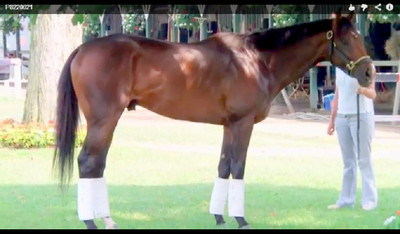 Kentucky Derby winner Orb at Saratoga. His fifth dam, his great-great-great-grandmother, is Native Dancer's daughter Shenanigans.
Photo courtesy of Liz O'Connell
*Dancer's Image was subsequently disqualified and sent down to last place because of a positive test for a trace of the NSAID phenylbutazone.