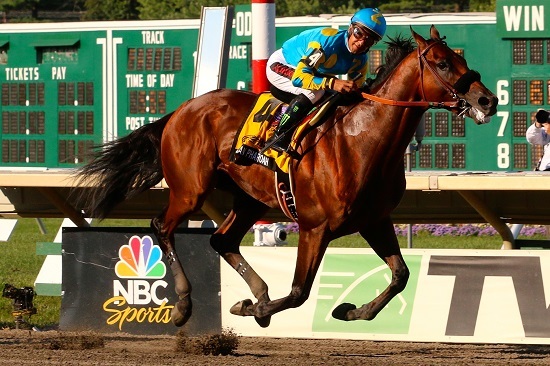 Zayat Stables' Triple Crown winner American Pharoah wins the 2015 Haskell Invitational at Monmouth Park Race Course.
Photo courtesy of Penelope Miller/ABR
It's a tough year to be a three year-old colt if your name isn't American Pharoah. The Haskell Invitational and Triple Crown winner's classmates have been chasing his famously scant tail across the finish line since his second start, and first win, last September when he trounced the field in the
Del Mar Futurity
.
American Pharoah's victory in the Haskell Invitational at Monmouth Park, last Sunday, answered all questions about his comeback from the Triple Crown trail – he's fit and game to run. For the better part of the race, the bay colt was unhurried, loping close behind Competitive Edge. On the far turn, American Pharoah opened his stride and floated to the lead, leaving the rest of the field to vie for his crumbs.
At one point before jockey Victor Espinoza eased the throttle on Pharoah coming down the stretch, he was four lengths and gaining ahead of the field. At the finish, Pharoah cantered past the wire two and a quarter lengths in the lead. Donegal Stables' Keen Ice, gained ground in a strong drive, but had to settle for second. Upstart, running for Ralph M. Evans and WinStar Farm (lessee), finished third.
In a post-Haskell press conference, Espinoza described the race:
It was pretty easy. For me the key was just coming out of there running. I didn't want to get in into any bumping out of the gate, I just wanted to let him run his race. I knew that other horse would want to take the lead so I sat back just a little bit. I never like to go head and head with another horse so I sat back maybe half a length behind. He did everything by himself. It was pretty easy, pretty impressive.
With his Haskell earnings of $1,100,000, American Pharoah's total earnings are $5,630,300. Zayat Stables, his owner-breeders, have the $5 Million Breeders' Cup Classic (Grade 1) penciled in as his final race. Since the Haskell was a Breeders' Cup Challenge race, by winning it American Pharoah's $100,000 entry fee to the Breeders' Cup Classic will be paid for by the Breeders' Cup.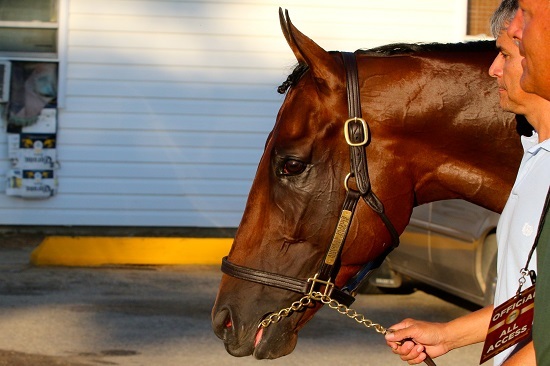 American Pharoah walking back to his barn after his victory in the Haskell Invitational.
Photo courtesy of Penelope Miller/ABR
Where will American Pharoah run next?
Between now and the Breeder's Cup on October 31, racetracks throughout the country are courting Zayat Stable and trainer Bob Baffert to secure American Pharoah's next appearance. Baffert has declined to disclose future plans.
Last week in a teleconference from California, Baffert was explicit, at that point his intent after the Haskell was to return Pharoah to Del Mar:
Tom Pedulla: … I know clearly you can't say what's after the Haskell. Could you say at least is there a plan to ship him back to California?
Bob Baffert: The plan is to ship him back to California.
Tom Pedulla: Okay, just because you want him under your eye every day I guess?
Bob Baffert: Yes, and it's cooler here. It's nice and cool, and it's relaxing. It's good to have him here in Del Mar.
It is likely that American Pharoah will return to the East Coast before running in the Breeders' Cup Classic at Keeneland Racecourse, Lexington, Kentucky. Baffert is in no rush to run him against older horses – that would be the likely scenario in California. Back east there are the Travers Stakes, the Pennsylvania Derby and the track management at Monmouth Park has offered to write a race to meet Pharoah's conditions.
In terms of prestige and future credibility in the breeding shed, the Travers Stakes held at Saratoga Race Course is a persuasive option. In fact, the New York Racing Association has offered to raise the Travers' purse from $1.25 million to $1.6 million, if and only if, American Pharoah starts in the race.
Despite the enticements of the Travers, Baffert is not a fan of the race – his horse Bayern was entered as favorite last year, and finished last. Baffert shared some thoughts on running Pharoah in the Travers during last week's teleconference:
So it would probably be a little tough on him. I think the Travers, you need a prep. Ideally the Travers is to run in the Jim Dandy (run on the same weekend as the Haskell) and then get a race over the track, because at Saratoga, it seems like that's what they do. They run in the Jim Dandy and then run in the Travers; you know, give them a race. I think it's probably a big plus for some horses.
Although some horses benefit from having a race on a track before a major stakes run, American Pharoah has shown up a few days before his big races and dominated. Most notably he demolished the Belmont Stakes' field despite the notoriously challenging surface and scope of Belmont Park's "Big Sandy" main track.
A stallion in the making
Ahmed Zayat, the principal of Zayat Stables, secured American Pharoah's future as a stallion when he made a deal with Coolmore Stud, the Ireland-based Thoroughbred racing and breeding global sovereignty, prior to Pharoah winning the Triple Crown. The substance of the agreement was outlined in a Sports Illustrated article by Tim Layden,
Zayat announced during the Triple Crown run that he had sold the colt's stallion rights for an undisclosed sum to Coolmore Stud. But several sources have told Sports Illustrated that the deal had been done long before–early in 2015 at the latest. "I categorically deny that the deal was done in 2014, which some people have said," says Zayat. "I won't comment further on the date. I will say that I am a businessman and there has not been money left on the table, because when I made the deal, I considered every possible future achievement and had kickers written into the deal. What if he wins the Derby? What if he wins the Preakness? What if he wins the Triple Crown?"
Zayat says that American Pharoah's stallion deal includes several additional incentives attached to race victories. He says that a victory in the Haskell would probably do nothing to increase the colt's value as a stallion, but a victory in the Travers (a Grade I race) would. As would a victory in the Breeders' Cup Classic.